THE SNAPDEAL MODUS OPERANDI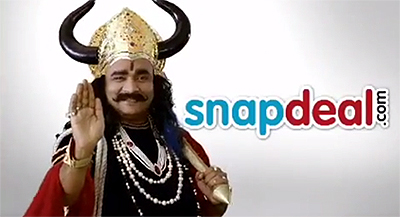 'Yamdoot' or 'God of Death' mascot created by Draftfcb Ulka for Snapdeal.com TV commercials in 2012
1) Market Culture: Snapdeal works on a commission-basis. It creates nothing, it delivers nothing. It is only a commission-agent which employs about 800 people below the age of 26. The firm does not use the term 'Employee' but 'Team Member' — denying rights and benefits to an 'employee'. The Snapdeal website claims that it is the largest online 'marketplace' which sells one saree in every two minutes and one footware in every 30 seconds. But there is no word about delivery. Snapdeal.com violates one of the core aspects of the Six Sigma concept — "Defect" — by "Failing to deliver what the customer wants".
2) Other People's Money: Imagine the number of individual customers buying products from Snapdeal.com on a daily basis. The company figures say it has about 20,000,000+ registered users as of February 2013. Even if half of its registered users buy one product a month worth Rs 1/-, the company could still make a revenue of Rs 10,000,000 every month — with no investment on infrastructure or people. This is made possible with the company's nexus with unreliable and corrupt 'merchents' across the country. 50pc of the complaints on Snapdeal.com you get to read in the Internet is about non-delivery of products and refund-related issues. Snapdeal.com is one of the biggest violators when it comes to refunds, compensations, unless you cancel your product online or drag the company to a court. We can imagine what would be the fate of thousands and thousands of ordinary Indian shoppers who buy their desired products from this 'award winning' portal. Even when you are reading this, someone, somewhere is getting cheated of their hard-earned savings.
3) Delay Tactics: Is 'delay caused' a situation or a tactic? Delay can never be a 'situation' in today's modernised world. We are living at a time when shopping portals like Amazon.com is deploying unmanned aerial drone vehicles in a project named "Prime Air" to deliver the packages into customers' hands in less than 30 minutes. Delay can only be a "strategy", nothing else. This reminds us of a 'delay strategy' of a private telephone service provider in Mumbai which used to send telephone bills to its thousands of customers late leaving no space for the customer to pay the bill on time. The 'strategic delay' in sending bills to customers was finally exposed by its own customers. The 'delay' makes the customers pay a fine amount of Rs 50/- after the due date — helping the telecom company to earn millions of rupees in cash.
And delays are not delays all the time. Delay means 'Profit' in corporate terms. A simple calculation might prove that. Imagine 10,000,000+ products purchased by shoppers (Half of Snapdeal.com 20,000,000+ registered users) for an average cost of Rs 3000/- are being delayed by 25 days. Who benefits from the 'strategic delay' — growing enterprises like Snapdeal, which has the liberty of illegally keeping a huge sum of interest-free cash (Rs 3,000/- x 10,000,000 users) for an unlimited period — which is usually spent on business expansion and strategic investments. And who empowers such companies — people like us who go after discounted products.
This illegal and unethical business practice should end.
THE VERDICT

THE above mentioned "Snapdeal.com Test product" was purchased by Design & People on March 3, 2014. The product is not yet delivered to the customer even after 20 days. And there is no sign of any delivery or refund. This is unimaginable in 21st century. Twenty days are enough to travel across the globe; start a business venture like Snapdeal.com or Amazon.com or to even change the course of history. The 'Strategic Delays' are unpardonable. Making customers wait for months and later not refunding their hard-earned money is illegal, criminal and punishable under the Indian Cyber Law. It's time for Snapdeal to correct its mistakes of the past and come out clean to be a truly business leader. Design & People is confident that Wharton Business School and IIT-educated Snapdeal leadership will have the courage and wisdom to change the present situation and also to bring in dignity and sanctity to their respective field of activities.

CAMPAIGN UPDATES:

Dell warns shoppers against buying from Snapdeal (April 2014)
Dell has joined the bandwagon of global manufacturers warning people against buying its laptops and tablets from e-commerce website Snapdeal.com. The company has put up a warning against Snapdeal on its website and has asked people restrain from buying any product online as Snapdeal is found to be selling fake products and not refunding money against cancelled orders. Earlier Toshiba, Nikon and Lenovo had also put up notices against Snapdeal.com, but this is the first time a manufacturer has singled out an e-commerce company.

RESOURCES

1) Cyber Law of India: An Introduction - Read
2) Ashit Sharma's shopping experience with Snapdeal.com - Watch
3) "Hate Snapdeal" — Facebook Account of Snapdeal customers - Visit
4) Snapdeal Reviews, Fraud and Policies - Read
5) 'Mouthshut.com' Reviews of Snapdeal - Read
6) 'Indian Consumer Complaints Forum' on Snapdeal.com - Visit
7) 'Buying IQ' Review of Snapdeal.com - Read
8) 'National Consumer Complaint Forum' on Snapdeal.com - Read
9) The Hindu: "PC manufacturers warn buyers not to use Snapdeal.com" - Read


A DESIGN & PEOPLE PUBLIC AWARENESS INITIATIVE

^ TOP




Design & People, PO Box 16674, Mumbai 400050.
Tel: +91.9995181777, +91.9847044248 Fax: +91.11.47615142 Email: support@designandpeople.org